Exploding Play' is a multi sensory, interactive, generational playscape; the only limitations are its user's imagination. Influenced by my experience as a visually impaired designer who encounters frequent frustrations and restrictions at galleries. 'Exploding Play' is focused on creating an inclusive experience that encourages public participation. The playful structure is interchangeable with a variation of surfaces and materials that celebrate our human desire to touch and challenge current design practice centred around Ocularcentrism, the prioritisation of vision in Western culture.
Visualised in Chelsea College Parade Ground, the playscape intends to disrupt and alter the environment to evoke an emotional, physical, and thoughtful response from members of the public. Surreal imagery of warped body parts is projected on to the playscape and surrounding building with the intention of immersing the public into a distorted fantasy.
The current pandemic has been a unique and difficult situation for many; however, I have been inspired by people's resilience and creativity during lock down. For some family time has increased and the endless hours of work have taken a step back. This has inspired my practice: aimed at all generations, 'Exploding Play' provides a safe, exciting environment for the public to explore, relax, communicate, climb, disassemble, and recreate. It is a place for children to learn and take risks and a place for adults to revisit the freedom and playful exuberance of being a child.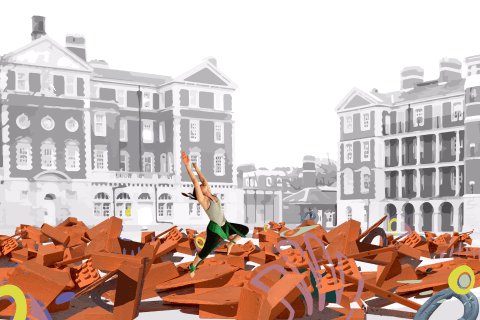 RESEARCH : SURFACE & TEXTURE